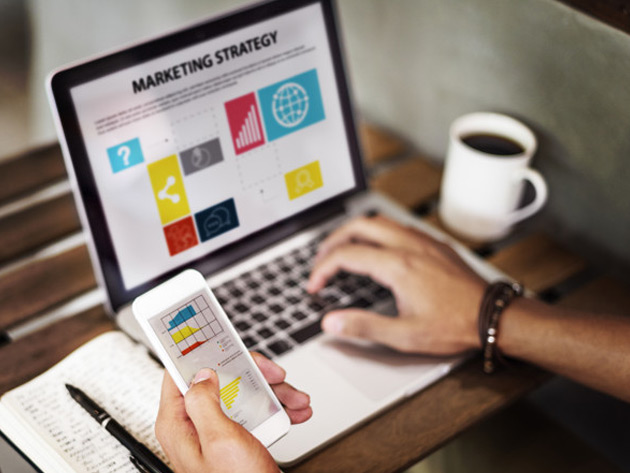 The Complete Guide to Digital Marketing Course
321 Lessons (27h)
Welcome! Let's Do This!

1:32

DOWNLOAD: The Ultimate Guide to Content Marketing

Learn Our Digital Marketing System in 10 Minutes

9:27

Course Roadmap: Where Should You Start?

Define Your Business & Target Audience

CASE STUDY: 3 Brand's Purpose

5:25

Positioning Your Brand

4:06

CASE STUDY: Amazon and Harley Davidson Positioning

3:05

Unique Selling Proposition

6:01

Personality: What's Yours?

1:49

CASE STUDY: 3+ Brands Show Their Personality

6:54

Validate Your Business

8:30

CASE STUDY: Phil Surveys His Audience

Supplemental Reading List

CASE STUDY: 3 Company Styles

4:43

Tools for Creating Graphics

7:39

Brand Assets: Links to Helpful Resources

Learn Canva in 10 Minutes

10:35

Learn Photoshop in 30 Minutes

26:10

Supplemental Reading List

Website Tools & Why I Use WordPress

3:39

Choose Your Domain Name

5:28

Intro to WordPress Course Lessons

1:15

Purchase Hosting and Install WordPress

5:59

Install and Activate Themes

6:34

1.7 Add a Static Home Page

4:09

Editing a Page & Change the Site Title

17:05

Writing a New Post & Organizing Your Blog

9:12

Blog Page Design - Excerpts vs Full Content

1:00

Customize the Sidebar

4:47

Add Images to Sidebar

4:58

Add Site Icon with a Plugin

2:25

Make Your Website Responsive and Mobile Friendly

3:27

Customize Footer Information

3:28

Find, Install, and Activate Plugins

7:19

Backing Up Your Website

4:47

Securing Your Site from Attackers

4:51

Make Your Site SEO Friendly

5:37

Make Your Website Faster

4:33

See your Google Analytics in WordPress

5:06

Block Spam with Akismet

3:13

WordPress Commenting Systems _ Plugins

5:07

Secure Contact Forms in WordPress

7:07

Pretty Link Redirects & Link Shortener

2:58

Free Email Marketing in WordPress

10:58

Add Social Sharing Buttons

6:51

Add a Welcome Mat to Increase Opt-Ins

3:23

3 Ways to Increase Opt-Ins with Sumo

3:50

What Pages Do You Need?

8:42

Design a Home Page that Works

8:54

The Start Here and About Page

6:15

Easy Email Marketing Funnel

6:51

Email Marketing Tools

4:09

Where to put opt-in forms

5:34

Segmenting and Tagging Your Subscribers

5:10

Better Email Subject Lines

3:54

Case Study - 100 Subscribers in Less Than 1 Week

5:32

Using Analytics to Improve Emails

7:05

Supplemental Reading List

Case Study of a Sales Page

8:14

10 Commandments of Copywriting

6:42

Write Better Headlines

5:21

Write Quality Articles

6:17

Optimize Your Website SEO

5:23

Case Study - YouTube Sales Funnel

4:43

YouTube SEO - Watch Time vs. Views

3:33

Keyword Research for YouTube Videos

5:39

Start Your New Channel

2:59

Customize Your Channel Design

4:26

Add a Channel Trailer

2:29

YouTube Channel Settings and Verification

6:34

Upload Defaults, Featured Content, and Channel Branding

6:01

Uploading Videos + Titles, Tags, Description

11:41

Cards and End Screens

7:53

Use YouTube Analytics to Grow Your Channel

6:08

Quickly Respond to Fans with the Community Tab

2:17

Live Streaming with YouTube Live

4:07

Free Music on YouTube

1:37

Spy on Competition with Social Blade

4:02

Video Equipment for Beginners

8:28

Tools to Make Your Videos More Pro

4:02

Structure a Video that Sells

4:19

Intro to Video Production Bootcamp

1:04

What Makes a Great Video

3:17

What Type of Video Should You Make

2:47

Come Up with Great Video Ideas

5:05

The Pre-Production Checklist

4:04

Equipment Recommendations

1:34

Getting the Right Shot

3:43

My Office Video Setup

2:54

Exposing with DSLR and Mirrorless Cameras

6:31

Focus with DSLR and Mirrorless Cameras

2:35

Shoot with your Smartphone

5:10

Shoot with Your Webcam

5:49

Record Great Screencast Videos

4:20

Choose the Right Microphone

3:21

Record Better Audio in Any Environment

1:27

Recording Audio with Your Computer

1:33

Intro to Facebook Groups

2:19

Create Your Group - Walk Through

11:26

Tips for a More Engaged Facebook Group

8:24

Scheduling Posts, Live Video, and More

3:34

Why Facebook Pages are Important for your Business

1:09

Creating a Stunning Facebook page for your business

8:57

Adding Essential information to your Facebook Page

10:39

Selecting your Profile Image

4:29

Creating Professional Facebook Cover Image for your Pages

12:03

Creating a captivating Facebook Page Description using the absolute Best Keywords

2:42

Getting your Facebook Page Username

2:45

Setting up your Facebook Page Target Audience

6:48

Facebook Page Apps to increase fans engagement

8:05

Top 9 Ways to Monetize your Facebook Page

11:58

Exploring Publishing tools

Scheduling Facebook posts

4:43

Facebook Call-To-Action Button

9:28

How to spy your competitors on Facebook

11:01

How to guarantee your fans see all your posts

9:32

Exploring Facebook Insights

12:19

Promoting your Facebook Page

10:33

Four Unlimited sources of royalty free images

12:19

Assignment - Create a Facebook page

2:36

Introduction to Facebook Ads

1:12

Introduction to the Facebook Ads Manager

5:53

Setting Up Your Payment Account

1:54

Define Your Target Audience

12:13

Level 1 - Creating the Ad

5:24

Level 1 - Boosting your Post

8:36

Level 2 - Creating your Ad in the Ads Manager

11:24

Tips to Get Your Ad Approved

3:24

Assignment Create a Facebook Ad

1:24

What is Facebook Retargeting and Why is it Important for You

4:50

Creating a Facebook Pixel

5:28

Installing the Pixel in WordPress

4:31

Installing the Pixel in Non-WordPress Sites

2:27

Creating your Audience with the Pixel

3:40

Facebook Pixel Advanced Audience Creation

13:45

Message "Your Audience is too Small"

1:50

Creating a Facebook Ad with the Pixel Audience

10:38

Assignment - Install Your Facebook Pixel

0:51

Facebook for Local Business

How Facebook Ads Can Help Your Local Business

6:23

This is the Plan for your Local Business

7:33

Reaching People Around Your Business

10:23

Create Your Local Business Ad

10:27

Assignment - Create Your Local Business Ad

1:35

Google Adwords for your Business

1:47

Example of Ads that we are creating

4:27

Setting up your Adwords Account

6:51

Exploring the Adwords Interface

5:14

Discovering the Best Keywords

11:14

Creating a Google Adwords Search Campaign

6:10

Selecting your Audience

3:32

Choosing your Bid settings for Google Adwords

4:21

Creating an Ad group and Adding Keywords

3:42

Finalizing your Google Adwords Ad

6:14

Managing your Google Ads Campaigns and Analytics

3:02

Creating a YouTube Ad with Google Adwords

9:57

Assignment Google Adwords

1:25

Setting Up Google Analytics

5:32

Navigating the Google Analytics Dashboard

6:34

Know Your Audience with Analytics

5:35

User Acquisition and Behavior Flow

13:17

See Where Visitors Click with Page Analytics

4:40

User Behavior and Site Speed

4:00

Why Twitter Can Help Grow Your Business

1:47

Choose the Best Username

6:27

4 Tips for Choosing Your Twitter Handle

2:00

Creating Your Twitter Account

4:53

Creating an Outstanding Twitter profile page

3:46

Adding your Profile and Header Photo

9:33

Writing an optimized Twitter bio

10:43

Choose Your Pinned Tweet

6:17

Connecting with Other Influencers

5:36

Growing your Twitter Presence with Jooicer

9:04

Add Twitter Buttons to Your Website

9:58

Add Twitter Widgets to Your Website

6:51

Twitter Ads - Creating Your Ads Account and Campaign

9:31

Twitter Ads - Adding your Payment Method

1:21

Twitter Ads - Creating other Twitter Ads

2:19

Twitter Ads - Promoting a Tweet

1:51

Why Instagram Can Help Grow Your Business

3:42

Instagram for Business - Whats our Strategy

4:21

Create an Instagram for Business profile

3:51

# 1 Building a Killer Instagram Profile

2:42

#2 Building a Killer Instagram Profile

3:57

#3 Building a Killer Instagram Profile

5:04

#4 Building a Killer Instagram Profile

1:33

Accessing the Ads Manager

2:36

Creating your First Instagram Ad

3:58

Creating you Instagram Ad inside the App

7:44

Important Tips to have a Successful Ad on Instagram

4:46

#1 Mistake People Make on Instagram

2:19

#2 Mistake People Make on Instagram

1:13

#3 Mistake People Make on Instagram

2:01

#4 Mistake People Make on Instagram

0:51

#5 Mistake People Make on Instagram

1:04

#6 Mistake People Make on Instagram

0:51

Tools to create Instagram Photos

4:22

Creating Viral Instagram Photos

13:20

Adding Your Logo or Website to your Instagram Post

4:50

Instagram Live and Instagram Stories

4:07

Assignment - Instagram Ads

1:02

Why Pinterest Can Help Grow Your Business

3:15

Opening a Pinterest Business Account

3:14

Linking Pinterest with other Social Media platforms

2:04

Optimizing your Pinterest Profile

8:51

The Powerful Pinterest notification

1:18

Adding Chrome Extension

3:21

Adding Pinterest to your Website

13:36

Pinterest Ads - Getting started

3:02

Pinterest Ads Panel overview

2:46

Creating a Pinterest Ad

13:05

Creating Pinterest Ads Fast

3:05

Welcome to LinkedIn Marketing

1:39

Setting up your LinkedIn account

6:25

Adding Experience, Skills, Accomplishment to your LinkedIn profile

3:21

Adding a professional Background photo

4:06

Adding media to your LinkedIn profile

6:00

Changing your LinkedIn URL

3:29

Adding your Website to LinkedIn

6:22

Creating Shareable content on LinkedIn

4:07

LinkedIn Company Pages Examples

5:29

Creating a LinkedIn Company Page

2:22

Managing your LinkedIn Company Page

7:08

Publishing content in your LinkedIn company page

4:10

Getting $50 in LinkedIn Ads Credits

2:39

LinkedIn Ads Introduction

2:56

Creating a LinkedIn Sponsored Content Ad

11:46

Waiting for LinkedIn Ad approval

0:45

Creating a LinkedIn Text Ads Campaign

6:52

Creating a LinkedIn Sponsored InMail Campaign

9:08

Quick view oat the LinkedIn Campaign manager

3:09

Creating Your Periscope Account

6:35

Use Your Periscope Description for Marketing

4:22

Use Periscope Like a Pro

10:59

How Often to Periscope

4:15

Ideal Periscope Session Length

2:50

Using Powerful titles in your scopes

2:20

Getting Feedback from your Audience

3:32

Using your Scopes in other channels

5:34

Equipment to Make Scopes Look Professional

5:10

Social Media Live Streaming

Using Social media Streaming to Grow your Business

2:07

Basic Equipment for Social Media Streaming

8:41

Planning an Irresistible Live Streaming Session

9:42

Running a Facebook Live Session from your Smartphone

6:47

Sharing our Facebook Live Session

2:43

3 ways to Reuse your Facebook Live Sessions

5:27

Running a YouTube Live form your Smartphone

4:40

Introduction to OBS Broadcaster software

3:19

Setting up your OBS software

10:56

Using OBS Studio Mode

4:51

Facebook Live Streaming with OBS

12:23

YouTube Live Streaming with OBS

6:59

Simultaneous Streaming to Facebook, YouTube and Periscope

15:40

Other awesome software for Live Streaming

8:03

Assignment Social Media Live Streaming

2:54

Hosting Your Podcast with Libsyn

7:27

Submitting Podcast to iTunes

2:18

Validate Your Podcast Feed

0:57

Outsourcing Podcast Work

2:17

Finding , Answering, and Optimizing Your Quora Answers

3:20
From Email to SEO, This 27-Hour Course Will Get You Savvy with Digital Marketing's Touchstone Topics
Video School Online

Phil Ebiner | Top-Rated Instructor

4.6/5 Instructor Rating: ★ ★ ★ ★ ★ ★


Phil Ebiner's passion is inspiring people through online courses. Since 2012, over 200,000 students have taken his online courses. He graduated with a Bachelor's Degree in Film and Television Production from Loyola Marymount University, Los Angeles. Over the past 5 years, he has shot and edited thousands of videos that have played everywhere from the movie screen and television to film festivals and YouTube.
Description
Take the first step toward kicking off a lucrative, in-demand digital marketing career with this comprehensive course! From blogging and copywriting to email and SEO, you'll learn the proper techniques and strategies for each topic. Then, you'll see how these strategies are used in the real world with case studies. Finally, you'll take action yourself, and see real results!
Access 321 lectures & 27 hours of content 24/7
Grow your knowledge in several digital marketing fields, like copywriting & SEO
Access downloadable checklists to keep you on track
Use downloadable guides to help you take action
Learn from case studies that teach you vital strategies
Specs
Important Details
Length of time users can access this course: lifetime
Access options: web and mobile streaming
Certification of completion included
Redemption deadline: redeem your code within 30 days of purchase
Have questions on how digital purchases work? Learn more here
Requirements
Terms
Unredeemed licenses can be returned for store credit within 30 days of purchase. Once your license is redeemed, all sales are final.
All reviews are from verified purchasers collected after purchase.
This course gave me great information as a newcomer to digital marketing. Its also very overwhelming. I was able to incorporate tons of tips I learned from this course, into my online videos and presentations.
Oct 20, 2020
High quality lessons with many topics. The structure of the whole course is clear and well defined. Excellent.
Aug 21, 2020
I couldn't access yet
Apr 1, 2020